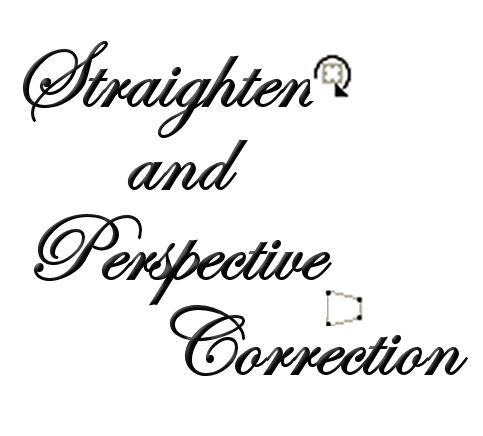 Written and Copyright © Cherie
This is my own creation, any similarities to other
tutorials is purely coincidental and unintentional.
Drag the Arrow to mark your progress

Make a folder in your PSP folders in All lessons under baby bee and title it Straighten.
In this lesson were going to briefly cover the Straighten and Perspective Correction tools that are apart of the deform tools.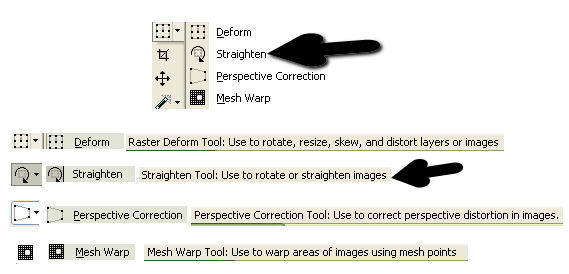 1. Start off by right clicking and saving the sample photo supplied in your PSP to your computer and then open it up in PSP. Notice how crooked the photo is. PSP will allow you with the straighten tool line up the photo. The straighten tool also allows you to crop the photo to a new position.
2. Now click on your straighten tool

.
3. Notice the line across the center of the image. This line is giving you the direction in which your working on.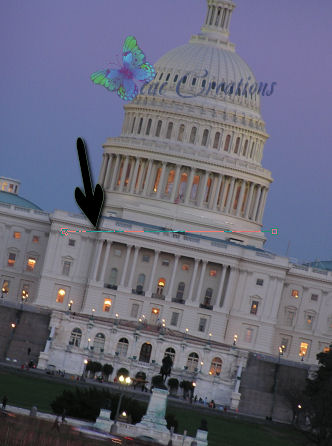 4. Make your settings the same as mine under presets tool bar.
5. Remember what we talked about in the raster deform lesson about nodules. There are 2 nodules on the Straighten tool there located at each end. Take the nodule on the right hand side and link it up to were it would appear to be lateral with the left hand nodule and even with the photo your working on. See example:
Notice how the new line is even with the top of the porch.
6. Up in your preset tool bar notice the check mark after you move your line click on the check mark and that will crop the photo to the new direction.
7. Your new photo will now be lined up and look like this: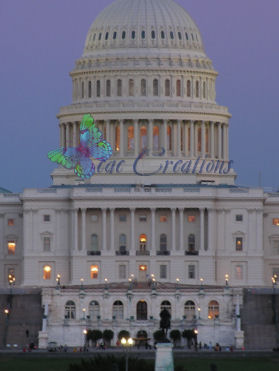 ASSIGNMENT TAKE THE PHOTO FROM ABOVE AND FOLLOWING THE LESSONS TURN IN YOUR STRAIGHTENED PHOTO.
PERSPECTIVE CORRECTION TOOL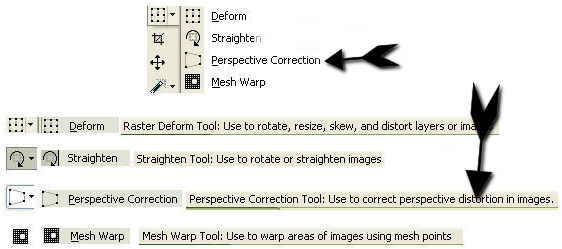 1. When you take pictures of tall objects, the resulting photographs may have perspective distortion—the objects seem to be leaning or angled. This distortion happens when the camera is at an angle to the subjects.
2. Copy the below picture to your c drive and open up in your PSP.
3. click on your perspective correction tool

.
4. You will see a box in the center of your picture like so:
Notice that this box has nodules as well and as we discovered from previous lessons those nodules help up re-arrange things within our images.
5. But this particular tool has the ability to sharpen those effect even more by adding additional nodules so on your preset tool bar change your settings to match mine.

6. Notice that the box now looks like a checker board.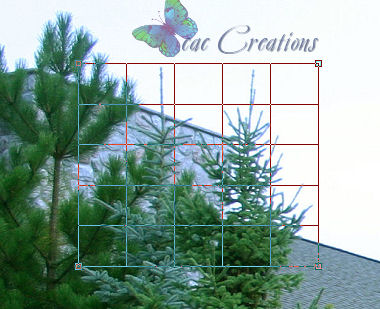 7. Use grid lines to help you correct lines in your photograph that should be vertical or horizontal. Grab the far upper nodules and hold your left mouse button when your moving it and move it up like so
8. On the preset tool bar click on the check box.

.
9. Notice that your graphic has moved up a little and that some of it has been cropped off.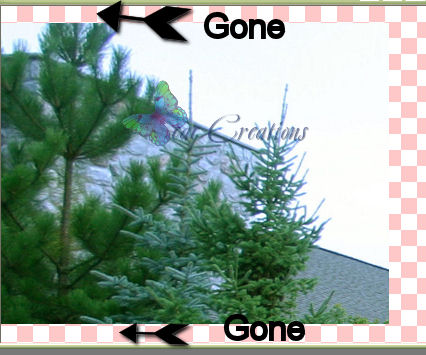 10. Every time you make an adjustment and click on the check box your perspective box will go back to its normal view so that you can continue to adjust as you go.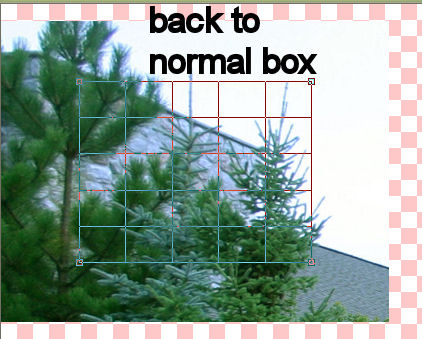 11. Now let's move a couple of the nodules just to see how it works. Grab the lower and the upper nodules move them around and click on the check mark. Watch your box it will go back to normal but your image will be different. Mine looks like this: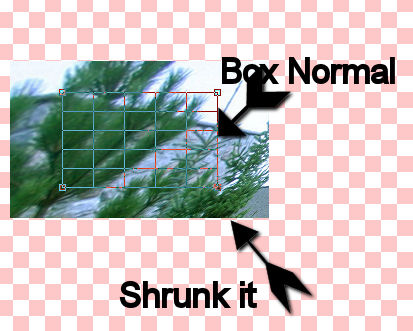 ASSIGNMENT: USE YOUR PERSPECTIVE CORRECTION TOOL AND SEND IN A SCREEN SHOT OF YOUR IMAGE AFTER YOU RESHAPE IT BASED ON THE LESSON.
RECAP OF ASSIGNMENTS:
1. SEND IN YOUR STRAIGHTEN PHOTO.
2. SEND IN A SCREEN SHOT SHOWING HOW YOU CHANGED YOUR IMAGE USING THE PERSPECTIVE CORRECTION TOOL.
Send in your lesson like so: Baby Bee Straighten/Perspective (name) for credit. Send them to:
I truly hope you enjoyed this lesson and you walk away understanding that layers is your most important function for PSP and the importance to renaming all your layers.