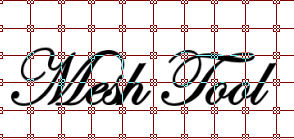 Written and Copyright © Cherie
This is my own creation, any similarities to other
tutorials is purely coincidental and unintentional.
Drag the Arrow to mark your progress

Make a folder in your PSP folders in All lessons under baby bee and title it Mesh Lesson.
DOWNLOAD THE IMAGE HERE: CLICK HERE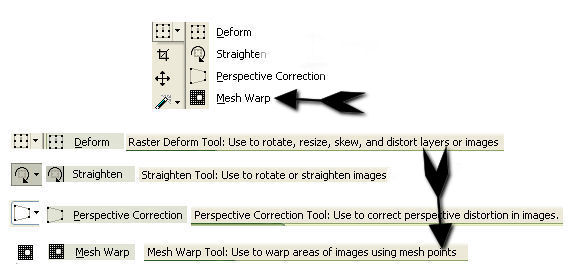 The image that we are using is just a ball shape one that is a PSP image. This way when you pull it up it will have 2 rasters to it. I have already renamed them so when you open it I will be working on the "ball" layer. Over on your right hand side of your PSP is what is called layers pallet. It will look like what I have below. If the actual word ball is not highlighted then your not on the right layer. Click on the word ball to activate that layer. You will learn more on layers later on in these lessons but for now I just want us to play with the mesh tool so you understand it a little better.
1. Open up the image supplied and follow what I have above. Make sure your on the ball layer.
2. click on the mesh

its under the raster deform tools.
3. And on the presets tool bar make your settings the same as I have.

4. Notice that there are nodules everywhere now in every corner of the box (see my example). And what does that tell you? That you can effect that image were the nodules are. I only placed a couple of arrows on it but anywhere you see a small box is a nodule.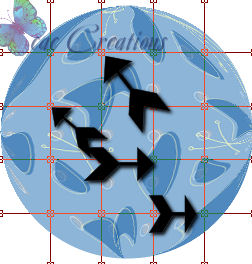 5. Now set your settings like I have below and notice that the lines are smaller and then yet again you have more nodules to play with.

My image now looks like this: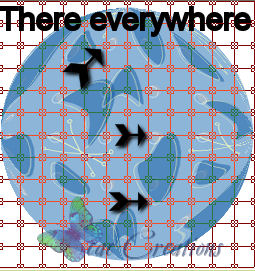 The more you increase the Mesh horizontal and vertical the more nodules you get.
6. Now for the lesson set your mesh tool like mine:

7. Now lets see what we can do with this tool I'm going to try and make a bottle. So I pictured how a bottle looks and I moved one of my nodules down like so: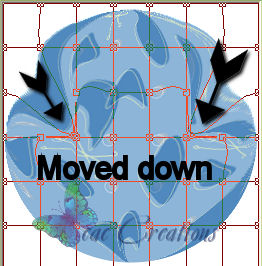 8. Then I clicked on my check mark under the preset tools it just like the other lesson. And what do you know my shape has changed but my box went back to normal.
9. I'm going to continue to reshape my round blob until I get something from it. And every time I'm happy with it I'm going to click on that check mark so it sticks.
10. Oh no I have made a mistake. Well if you have not clicked on your check mark yet just simply click on the X next to the check mark.

But if you have click on the check mark then simple go up to your redo button it looks like this:

click on that and presto it goes back to the last change you made. Get use to the redo button I use it a lot.
11. Okay kind have made my neck of the bottle and this is what I have so far.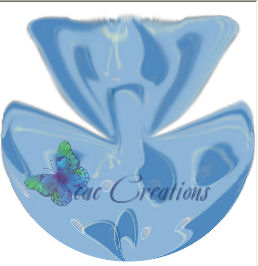 12. So I'm going to play around with my vertical and horizontal settings on my mesh to line up my nodules a little better.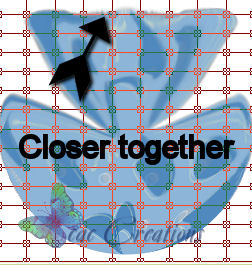 I changed my settings to horizontal 8 vertical 12. You change yours to fit your project.
13. I then decided I want a nice lip for my bottle so I moved around the nodules in different spots before I hit the check mark. This is my results.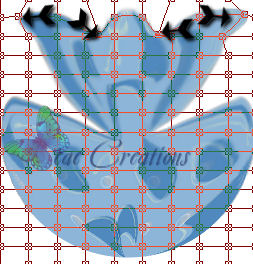 14. Okay my sides are just to large and I want it a little smaller so to effect an entire side hold down your shift key and place your mouse on the line that you want to move you will see a symbol come up. keep that shift key down and holding your left mouse down drag it in the direction that you want to effect. Note on mine I moved 2 sides in using this method.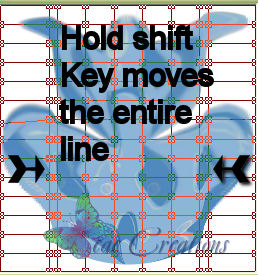 15. The more I worked on it the more I didn't like the lip so I used my nodules and moved it around the sky is the limit with this tool and you can be very creative. You can make butterflies, vases, jugs, sine dots, curtains. This is my end result of my bottle I dressed it up a little by adding a bow to it, but I think you get the drift of the lesson.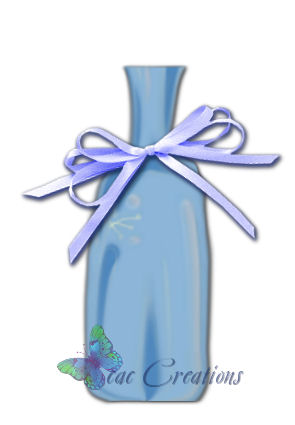 ASSIGNMENT: USING WHAT YOU HAVE LEARNED FROM THE LESSON MOVE AROUND THE NODULES SO YOU GET USE TO HOW IT WORKS. YOU DON'T HAVE TO MAKE ANYTHING UNLESS YOU WANT TO BUT SEND IN AT LEAST A SCREEN SHOT OF HOW YOU EFFECTED THE CIRCLE.
Send in your lesson like so: Baby Bee Mesh (name) for credit. Send them to: