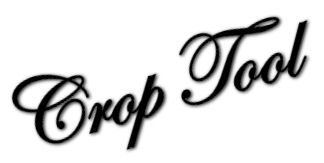 Written and Copyright © Cherie
This is my own creation, any similarities to other
tutorials is purely coincidental and unintentional.
Drag the Arrow to mark your progress


In this lesson we are going to learn about the crop tool. I promise you will use this tool a lot if not on every project that you work with. Getting use to this tool can only benefit you. This tool is the one I use the most.
Crop = cut
Make a folder in your PSP folders in All lessons under baby bee and title it Crop.
1. Right click on the image below and open it up in your PSP.
2. Click on your crop tool

.
3. Now click and hold your left mouse button down and drag it. You will see a box that comes up. Were going to crop down the first butterfly. Like so: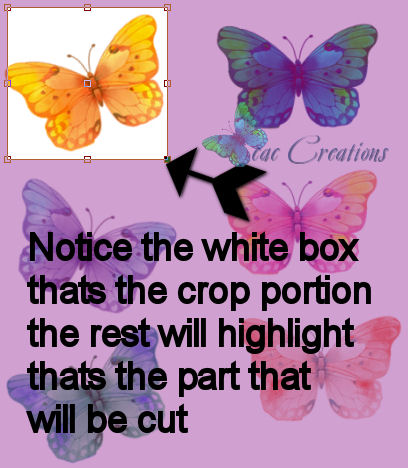 4. Now to crop it you can do it one of two ways. You can either click on the check box in the preset tool bar.

5. Or you can do it my way. In the center of the box that you just made take your mouse and double click in it and you will now be down from 6 butterflies to 1. Like so:
That's it, that easy.
ASSIGNMENT: CROP DOWN ALL THE BUTTERFLIES AND SEND THEM IN INDIVIDUALLY DO NOT SEND THEM IN AS A SCREEN SHOT. TO SAVE YOU BUTTERFLY GO TO EXPORT/JPEG OPTIMIZER FIND YOUR FOLDER YOUR GOING TO SAVE THEM IN AND SEND THEM IN FOR CREDIT THAT WAY.
Send in your lesson like so: Baby Bee Crop (name) for credit. Send them to: