Written and Copyright © Cherie
This is my own creation, any similarities to other
tutorials is purely coincidental and unintentional.
Drag the Arrow to mark your progress

Go to your PSP Folders and in the baby bee lessons make a new folder that says Airbrush Lesson
Okay this lesson will not be as intense as the paint brush lesson this is going to be a play one.
The Paint Brush and the Airbrush work in similar ways. Both create strokes of color in a selection or an image and have a variety of options for changing the brush stroke.
The Paint Brush tool creates strokes of color that simulates an art­ist's paint brush. Brush strokes can have hard or soft edges. The Air­brush simulates an airbrush or spray can, and is time-dependent, meaning, the longer you hold the brush over an area, the more the brush produces the effect.
Okay were going to start a new image so for a refresher I repeated the steps. Follow the steps.
1. In order to view your paint brushes your going to need a new image. So go to file/new
or click on the new button on the top of your psp it looks like this:
or keyboard short cut of Ctrl N.
2. A box will open that looks like this: Make your settings the same as mine below. Since we have not learned the paint bucket yet were going to pick a color instead of our new image being transparent.
Click on the spot that I have marked above a box will open. Select the color that you want to use for your image. I am going to use a black color so my brushes stand out more.
NOTE: REMEMBER THAT YOU HAVE A COLOR CHOSEN SO WHEN YOU GO MAKE A NEW IMAGE CLICKING TRANSPARENT WILL GIVE YOUR PROJECT A TRANSPARENT BACKGROUND AND NORMALLY THAT IS THE SETTING YOU WANT TO USE.
3. Now that you have a new image let's learn a little about PSP lingo. New images are frequently referred to as "Blank Canvas" so if you see that in a lesson you will understand what they are talking about.
4. Okay on your "Blank Canvas" click on the - sign to minimize it in your psp.
5. Click on your air brush from your main tool bar
. It's located below the paint brush
6. On the top portion of your tool bar will be your presets. Presets are important and come up every time you click on your tools. Mine looks like this:

If you don't see your presets the click on F4 on your keyboard. F4 is the function key and shortcut for the presets.
7. Your air brushes will be exactly the same as the paint brushes review below on how to look at them.
8. You can refer to the paint brush lesson for the setting information so let's skip that boring stuff and jump right into creating. You should have your "Blank Canvas" up in your psp. Again I stuck with a black background and used my white on my foreground. On your background (materials pallet) choose another color like so:
9. Make your airbrush settings the same as mine:

10. With your airbrush click on your blank canvas and hold down your left button and drag down to make a line like so: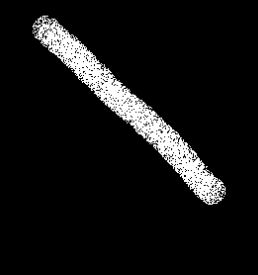 Notice its no a smooth line. I always think of airbrush like a spray paint that you would buy over the counter. It sprays on the effect.
11. Now go back to your blank canvas and this time hold down your right mouse button and make another line. Notice that it sprayed your other color the (background color)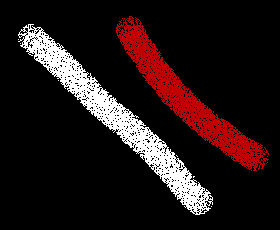 Recap:
Left Mouse button = foreground color
Right Mouse button = background color
ASSIGNMENT: MAKE YOUR TWO COLOR STROKES FOLLOWING THE LESSON ABOVE AND CROP THEM DOWN RESIZE IF NEEDED AND SAVE IT AS A JPEG. IT SHOULD LOOK LIKE MINE ABOVE. TURN IT IN FOR CREDIT.
Send in your lesson like so: Baby Bee Air Brush (name) for credit. Send them to: