Written and Copyright © Cherie
This is my own creation, any similarities to other
tutorials is purely coincidental and unintentional.
Drag the Arrow to mark your progress

Go to your PSP folders and in "All Lessons", "Baby Bees" make a new folder name: Scratch Tool
The Automatic Small Scratch Remover command finds and eliminates small, line-shaped defects that are either lighter or darker than the surrounding area.
Important: This command works on 16 million color or grayscale images only.

1. This is a short lesson because you will see what it does right off the bat.
2. If you do not have a black and white old photo that you would like to try this lesson out on then right click on the my one of my family pictures below: Save it to your PSP file folder
3. Notice the white line that goes down the right side of the photo. The older the pictures are the more lines or scratches they may have this lesson will help you remove and restore those old photos.
4. From your main tool bar and underneath your clone tool is your scratch removal tool

click on that tool.
5. Now check out your preset tool bar. There really is not much to it and I think its self explanatory. Mine looks like this:
Notice the width the larger the width is the more of the area you will effect and keep in mind that its only a small scratch. See what happens when I increase the width and use the tool:
6. So make your width 20 like mine above. Start at the top of the scratch and hold down your left mouse button. Just work a little at a time to remove scratches. Release your mouse button after you drew your box around the scratch like so: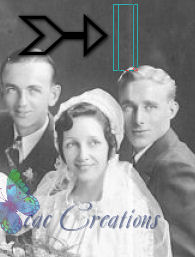 7. Continue to move down the photo fixing the scratches notice how it fixes the line (scratch) as you go: On the face I reduced my width to 4 before I removed the scratch.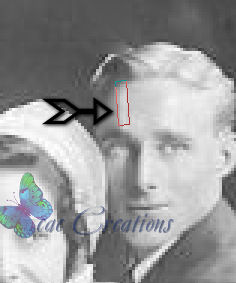 For the dress I increased my width back to 20.

This is my final result: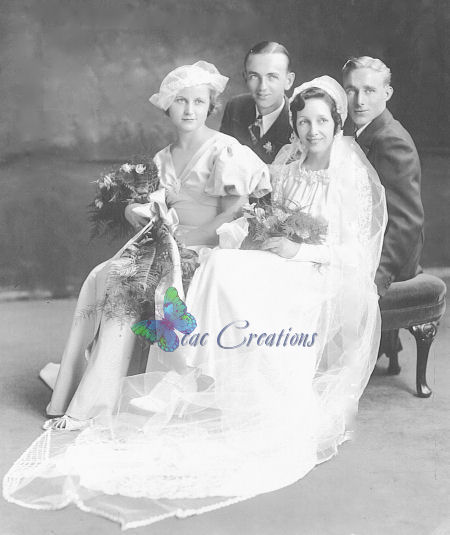 ASSIGNMENT: SEND IN A BEFORE AND AFTER PHOTO FOLLOWING THE LESSON ABOVE. IF ITS A LARGE PHOTO PLEASE RESIZE BOTH, SAVE AS A JPEG AND TURN IN FOR CREDIT.
Send in your lesson like so: Baby Bee Scratch Tool (name) for credit. Send them to: