Written and Copyright © Cherie
This is my own creation, any similarities to other
tutorials is purely coincidental and unintentional.
Drag the Arrow to mark your progress

Go to your PSP folders and in "All Lessons", "Baby Bees" make a new folder name: Smudge Brush
DOWNLOAD THE IMAGE FOR THIS LESSON HERE: CLICK HERE
There are a lot of different type of brushes under this tool option. But for now were only going to concentrate on the Smudge Brush

. When you get a chance play around with the other tools. I have listed all the tools that flow underneath the smudge brush

with a brief explanation on how to use them.
The smudge brush Spreads color and image details from the starting point and picks up new color and image details as it moves; the effect is similar to smearing paint.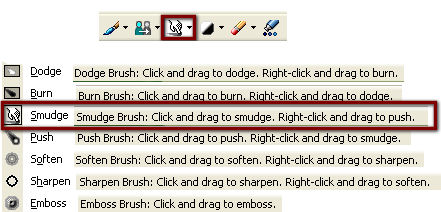 1. Open up the image 2 to your PSP that you saved in your lesson folder. It is a pspimage. When it comes up look at the layers pallet on the right hand side of your PSP. Remember your layers lesson. The first layer I renamed tube which has the cat on it. The second layer I renamed bk or background which is the pink background.
2. Make sure your tube layer is activated (remember what activated meant? Highlighted layer that you will effect).
3. Now click on your smudge brush

And look at your preset tool bar. Again under the actual view of brushes you can pick more than just the round brush but for now we are going to work with the round one. So if you don't have the round brush selected click on the round circle in the shape section of your preset tool bar.

Set your preset tools like mine below:

4. Now with your tube layer active pick a spot on your cat and hold down your left mouse button and run it across the one of the edges of the tube like so: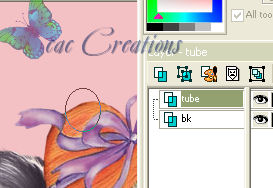 5. Notice the effect. The purpose of this tool is to blend colors together giving the appearance that they are blended as one. Of course for this lesson I just want to show you how it works. The settings are thicker than I would normally use so that you see the effect immediately.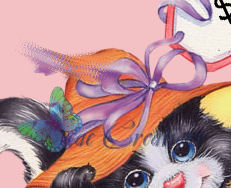 ASSIGNMENT: MAKE A COUPLE OF SMUDGE MARKS ON THE POOR KITTY PICK. THEN SAVE IT AS A JPEG AND SEND IT IN FOR CREDIT.
Send in your lesson like so: Baby Bee Smudge Brush (name) for credit. Send them to: