Written and Copyright © Cherie
This is my own creation, any similarities to other
tutorials is purely coincidental and unintentional.
Drag the Arrow to mark your progress

Go to your PSP folders and in "All Lessons", "Baby Bees" make a new folder name: Eraser Brush
DOWNLOAD THE SUPPLIES NEED HERE: CLICK HERE
Were going to look at the eraser tools. Remember these lessons are designed just to get you use to using them and what they do. Think of the eraser just like you would an eraser on a pencil tip.
The smudge brush Spreads color and image details from the starting point and picks up new color and image details as it moves; the effect is similar to smearing paint.

1. Open up the house image to your PSP that you saved in your lesson folder. It is a pspimage. When it comes up look at the layers pallet on the right hand side of your PSP. Remember your layers lesson. The first layer I renamed tube which has the birdhouse on it. The second layer I renamed bk or background which is the pink background.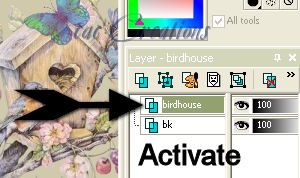 2. Go to your tool bar and click on the eraser

.
3. Look at your preset tool bar and make yours the same as mine:

4. Now let's start erasing on the birdhouse. With your birdhouse activated and your eraser tool set like mine above start erasing the cherries.
4. Notice not that the cherries are gone.
5. Now that your cherries are gone go to layers/merge/merge all flatten.
ASSIGNMENT: SAVE YOUR IMAGE AS A JPEG AND SEND IT IN FOR CREDIT.
BACKGROUND ERASER

Is exactly what it says it is. It erases the background. Let's give it a try.
1. In PSP open up the birdhouse image. Notice that this image only has one layer. So the background and image are merged together.
2. In the layers click on the background so its activated, right click and then click on promote background layer.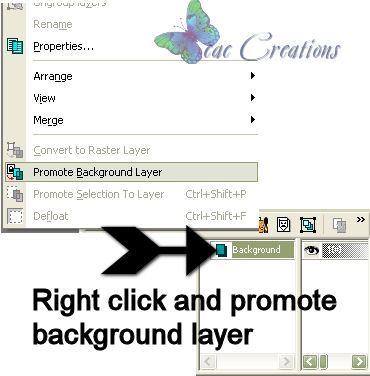 3. Click on your background eraser

4. Make your presets the same as mine:

5. Now on the green portion of your background place your mouse there and click the left mouse button: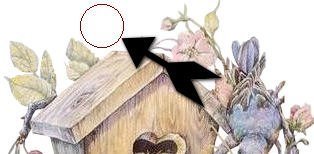 6. Once you click your background will be transparent in the spot that you clicked.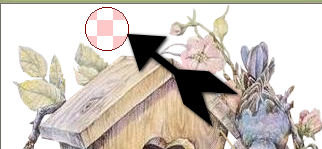 7. Erase everywhere the background shows up. In between things like leaves or stems.
ASSIGNMENT ERASE THE ENTIRE BACKGROUND. TAKE A SCREEN SHOT OF THE FINISHED WORK, SAVE THE SCREEN SHOT AS A JPEG AND TURN IT IN FOR CREDIT. THIS IS MY FINAL ONE: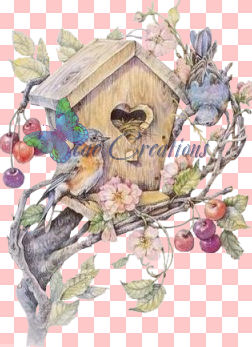 Send in your lesson like so: Baby Bee Eraser tool (name) for credit. Send them to: