Baby Bee Lesson 24

Written and Copyright © CAC Designs
This is my own creation, any similarities to other
tutorials is purely coincidental and unintentional.
Drag the Arrow to mark your progress

Go to your PSP folders and in "All Lessons", "Baby Bees" make a new folder name: Paint Bucket
This is a very easy and quick lesson.....
The paint bucket is referred to as the flood fill tool. So when you see lessons or tutorials that your working on that says "Flood fill" it is referring to the paint bucket on your tool bar.
You can use the flood fill tool to fill an entire background or along with the selections tool you can flood fill only a portion of your project that you specify. You can flood fill color, gradient or patterns.
Lets just work with the tool to get you use to it.
DOWNLOAD SUPPLIES HERE: CLICK HERE
1. Open up the pspimage called window that I have enclosed in the lesson.
2. Notice under layers it has two that I renamed. One layer is called bk (background) and the other is tube.
3. Click and activate the tube layer (activate means highlighted and ready to work with). See above mine is already activated.
4. Now double click on your foreground in your material pallet so it brings up the box like so:

5. Run your mouse across the window and pick a color to use from the tube like so: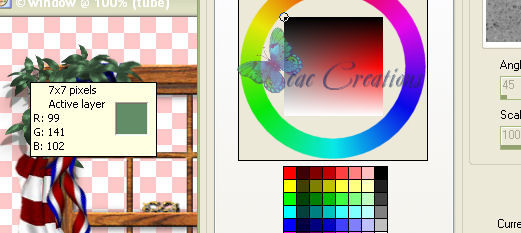 6. Left click when you found the color that you want to use and notice that it now shows up under current. Click okay.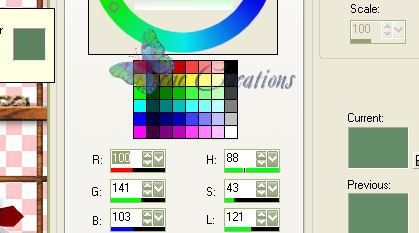 7. On your layers click on bk to activate it:
8. Now click on your

paint bucket.
9. Move your mouse over your window and just click. With your bk layer activated you should see something like this: Depends on your color that you choose. Notice since the window has transparent parts to it that the color appears behind the window.
If you get something like this: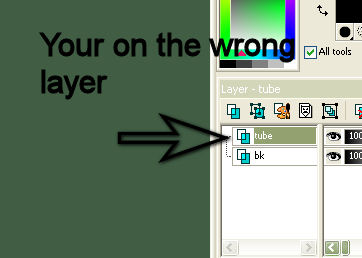 Then you just flood filled the wrong layer.
ASSIGNMENT: FLOOD FILL WITH A GRADIENT AND PATTERN. GO TO LAYERS/MERGE/MERGE ALL FLATTEN AND SAVE IT AS A JPEG AND TURN IN FOR CREDIT.
I'm just briefly going to show you what the gradient and the pattern effects look like when flood filled. Mine look like these: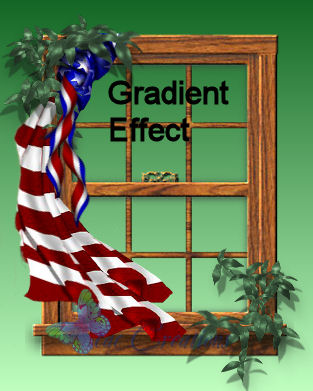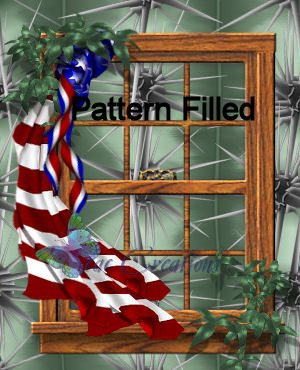 ASSIGNMENT: GO TO LAYERS/MERGE/MERGE ALL FLATTEN AND SAVE IT AS A JPEG AND TURN IN FOR CREDIT.

RECAP OF ASSIGNMENT:
TURN IN 2 JPEGS ONE FLOOD FILLED WITH COLOR THE OTHER FILLED WITH A GRADIENT OR PATTERN.

Send in your lesson like so: Baby Bee Paint Bucket (name) for credit. Send them to: