Baby Bee Lesson 25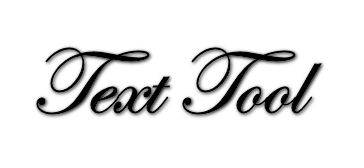 Written and Copyright © Cherie
This is my own creation, any similarities to other
tutorials is purely coincidental and unintentional.
Drag the Arrow to mark your progress

Go to your PSP folders and in "All Lessons", "Baby Bees" make a new folder name: Paint Bucket

Let's look at the presents: There are lots of presets for this tools so let's break them down. The first half of this lesson well be the ones you see below:

Were going to start with Create as:
Explanations in this lesson are straight from Jasc Help file.
Take a look at the different options under create as and how they look when you use each.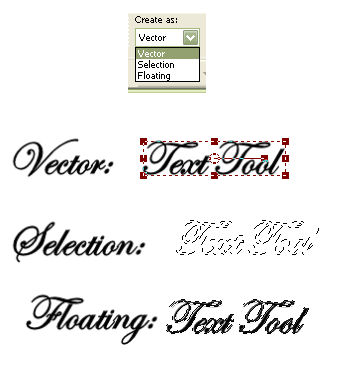 Jasc explanation of Vector is this; Vector Creates vector text , which is the only type of text you can edit by changing the words, font type, style, and alignment. Use this setting in most cases. So in other words you can use the vector the same way you can with a raster deform tool. Notice the nodules. This allows you to move your text around your project shrink it in our out or you can even move it sideways by grabbing the nodule in the center. when you place your mouse there you will see a up and down arrow. Notice in the center of the black box that nodule. That particular nodule is the one that I am talking about that will show you up and down arrows. When you grab and move those arrows you can tilt your text.

Selection Creates a selection marquee in the shape of text , rather than creating text as a painted object. Move, copy, fill, or otherwise edit it just like any other selection. For example, use the Paint Brush to paint the selection with a texture. You can also use a text selection to create special effects. Delete the text selection to create words that are cut out of the image. Or, create a text selection on a photographic image, and then copy and paste the selection to a new image; the result is text filled with the image. You will learn a more about this one in future lessons.
Floating (Raster) Creates raster text that is a floating selection. You cannot exit raster text , so use this type when you know that the words and formatting will not change. Use raster text when you want to apply raster-only tools, such as the Paint Brush or Deform tool, or commands such as applying a 3D or artistic effects. You will learn a more about this one in future lessons.
Let's move on to the next option from the preset bar the Direction options Each of those options will do something a little different the standard one is the first one which takes your text from left to right. The next on will make your text go down but place it on the left. The last one will also make your text go down but will place it on the right.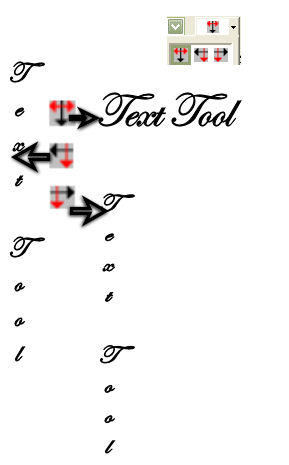 The Font and size speak for themselves and you will learn a little more about that on the next lesson which is font tips. But to view your fonts use the scroll down arrow like so:
The rest to me is pretty self explanatory so let's get started on an assignment.
1. Open a new image 500 x 500 transparent.
2. Flood fill it
with a background color of your choice.
3. Click on your
A tool (create as vector) go to your materials pallet and pick a foreground color and a background color.
4. Go to direction and choose the first option. Pick your font and your size.
5. Type your name like so:

6. Notice the layers pallet it says vector. Click on the + sign and see how the vector forms its own layers like so: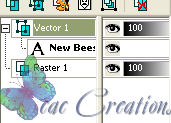 7. The purpose of the vector will be come more clearer in future lessons so as not to confuse you to early in the game were just going to move on.
8. On the word vector right click and a box will come up. Click on "convert to a raster layer".
9. Let's take a quick look at that box that popped up. Its a short cut so let's look at the other options that you can use on the layers with that short cut:
You can use this short cut on your layers for lots of things, And you will I promise. LOL
9. Now you should see in your layers "Raster 1" and "Raster 2".
10. Right click on Either raster and your short cut will come up again. This time click on merge and these options come up: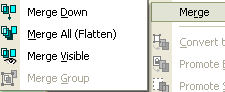 11. click on Merge all (Flatten). Before this short cut we went up to layers/merge. You have just learned a different way to make your work a little faster.
ASSIGNMENT: AFTER YOU MERGE YOUR NAME CROP IT DOWN, SAVE IT AS A JPEG AND SEND IT IN FOR CREDIT.
ASSIGNMENT 2: USING THE SAME TECHNIQUES AS ABOVE CHANGE YOUR DIRECTION TO DOWN AND THEN MERGE IT, CROP IT AND SAVE IT AS A JPEG.
RECAP: TURN IN 2 IMAGES WITH YOUR NAME ON IT.
Send in your lesson like so: Baby Bee Text (name) for credit. Send them to: