Go to your PSP folders and in "All Lessons", "Baby Bees" make a new folder name: Water Mark
1. Open a new image 500 x 500 transparent.
2. Set your foreground color to null and your background color to the color that you want your watermark to be - I have used #1c2b5a.
3. Select the text tool and make your text options the same as mine below. Your font and size can be what you choose it to be.
Make sure you set at Floating under "Create As" on the text options


Note: I used a larger font with mine for demonstration purposes only.
4. Once you have you setting right Click in the center of your image a box will pop up..

5. Type in your name or whatever you want your watermark to say right after that. Choose what you copy write carefully and ask yourself when your finished is it work that I can claim or can I only claim the design of it. In that case I highly suggest not copywriting but just adding a watermark with out the copy write symbol
6. After your text is done and you have hit applied you will see marching ants around your text like this:

Notice the Floating Selection that is because we have floating chosen within our text settings. Floating will allow you to make changes just with what is selected. DO NOT DESELECT.
7. Now let's add a little definition to your watermark. Go to Effects/3d effects/inner bevel and using my settings below inner bevel it.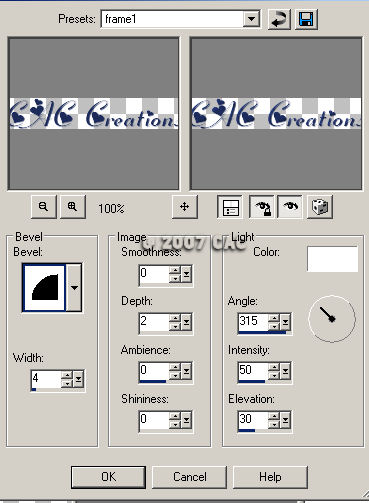 8. While still selected let's go add a drop shadow to it. Go back to effects/3d effects/Drop Shadow and using my settings below.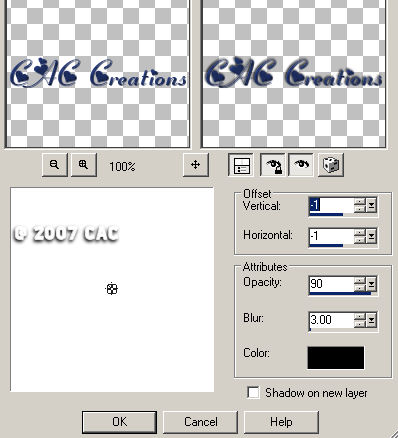 9. Now go to selections and select none. Notice the floating selection left and you now have raster 1.
10. Over on your right hand side and under layers double click on the Raster 1 and a properties box will open up. Reduce the opacity to your desired setting. I reduced mine down to 63 percent.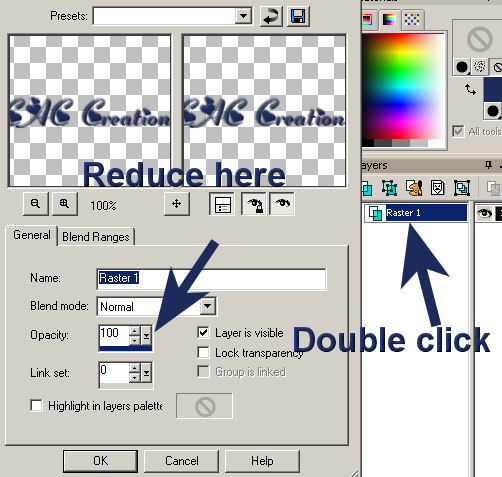 11. Notice the look of it now.
12. When you happy with the look and feel of it were going to turn your watermark into a tube so you can use it over and over again without having to make one each time.
13. Using your cropping tool block off the area you want to use. Crop it so just your name is showing like so: When you have the desired size double click inside the crop box and it will readjust.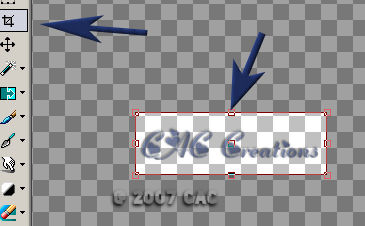 14. Now go to File/export/picture tube and this box will pop up. Just simply name it and click okay.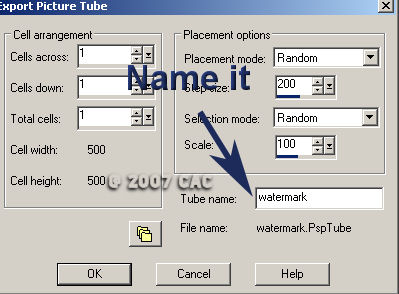 15. To use your newly made watermark go to tube symbol

on the left hand side of your PSP . Go to the top next to Presets and click the down arrow. A box will come up like the one below. Find your watermark click on it and it will now show up.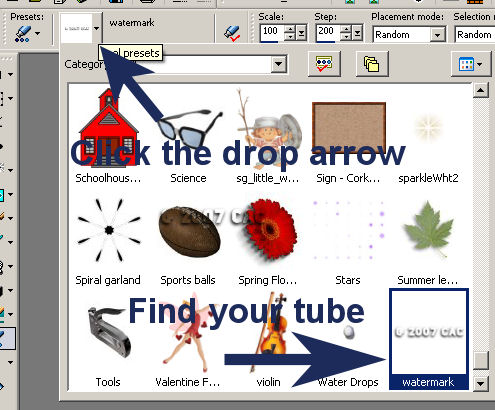 16. Now test it out, open up an image and with your picture tube activated click anywhere on the image and you should now have a watermark.
This tutorial only provides you with one way of making a watermark. There are many out there to chose from. U can add images to your watermark as well using the same techniques above and reducing the opacity as in step number 12. Just remember when your done with the image and text to merge it all visible first before proceeding.
IN THIS LESSON YOU WILL LEARN SEVERAL DIFFERENT EFFECT LIKE INNER BEVELS AND ABOUT OPACITY. DON'T GET FRUSTRATED IF YOU HAVE QUESTIONS ASK THEM THAT'S WHAT WERE HERE FOR.
FROM THIS POINT FORWARD YOU NEED TO ADD YOUR NEW WATERMARK TO ALL YOUR ASSIGNMENTS PRIOR TO SENDING THEM IN.
ASSIGNMENT: SEND IN A SAMPLE OF YOUR WATERMARK. TO DO THIS MAKE A NEW IMAGE AND ADD A BACKGROUND TO IT. USE YOUR PICTURE TUBES BECAUSE THAT IS WERE YOU SAVED IT. FIND IT IN YOUR TUBES AND THEN PLACE IT ON YOUR BACKGROUND BY CLICKING ON IT. CROP IT DOWN AND SAVE IT AS A JPEG AND TURN IT IN FOR CREDIT.
Send in your lesson like so: Baby Bee Water Mark (name) for credit. Send them to: