Baby Bee Lesson 3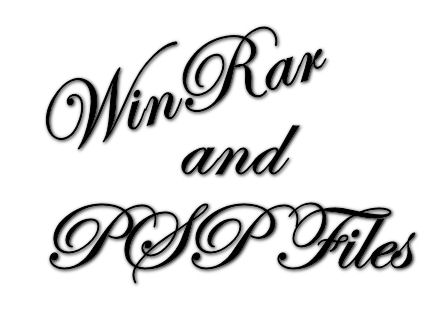 Written and Copyright © Cherie
This is my own creation, any similarities to other
tutorials is purely coincidental and unintentional.
Drag the Arrow to mark your progress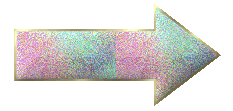 IF YOU'RE HAVING ISSUES WITH THIS LESSON THEN YOU CAN FOLLOW THE VIDEO LESSON CLICK HERE FOR THE VIDEO (make sure to have Flash Player installed before viewing).
We are going to do two lessons in one.
The first part of the lesson covers WinRAR. The second part of the lesson covers In the how to use folders.
I have supplied a link to WinRAR which is a zip program. If you don't have it please save it to your desk top and run it and install it. The reason we're doing this is a lot of the downloads provided with the lessons are in RAR format which takes a zip program to unzip them.
YOUR PSP FOLDER CAN BE PLACED IN YOUR DOCUMENTS FOLDER BUT IT IS ONLY USED TO SAVE IMAGES FOR PSP. PSP PROVIDES A FOLDER CALLED MY PSP FILES. ANY THING FOR PSP SHOULD BE SAVE THERE SO THAT WAY IF PSP HAS ANY ISSUES YOU HAVE A PLACE FOR ALL YOUR PATTERNS, MASKS, GRADIENTS, ETC.
WINRAR
Click here to download the zip program: ZIP FILE HERE
1. You will be prompted to save the file, save the file to your desk top.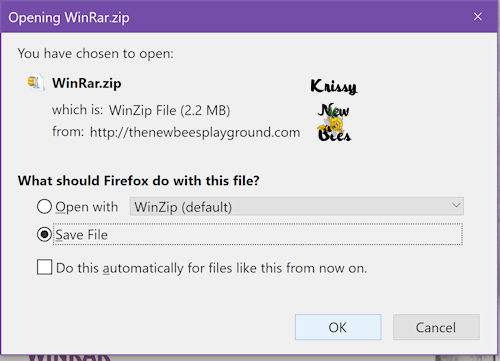 2. After it uploads to your computer click on the program so its highlighted and then right click on it, you should see something like this:
3. Once you unzip it a file folder will be placed on your desk top that looks like this:

4. Open up the folder and look for the icon that looks like the one below.
5. Double click on it and a box will come up that looks like this: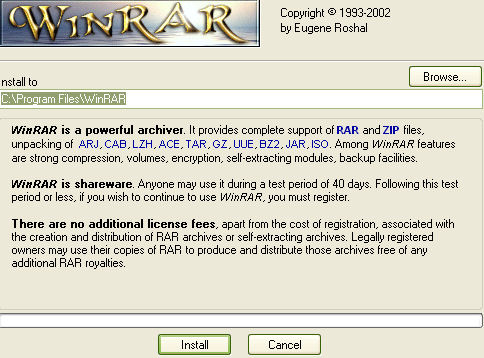 6. Click install and you get the next box below. Make sure that under associate WinRAR is checked and then click done. And your all set.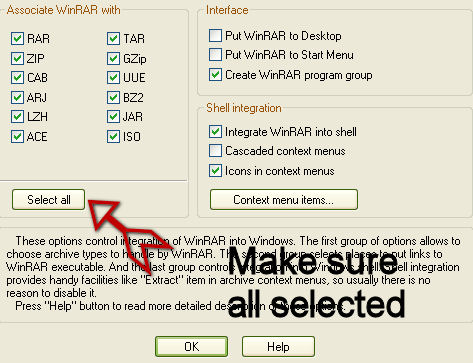 Okay now that your all set to download some of the lesson requirements let's start on our first one. I'm going to include PSP files that are all ready for you to use.
PSP FOLDER
DOWNLOAD FOLDERS HERE: PSP FOLDERS
1. Click on the link above and you will be prompted to save it or open it. Click Save and save it to your desktop.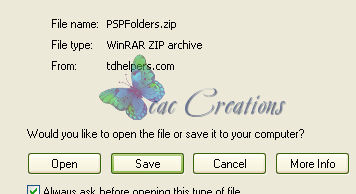 2. Use the drop down arrow to find your desktop like below:

3. Scroll through your files until you see desktop: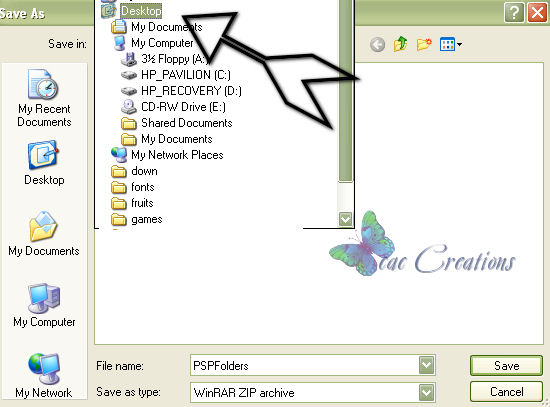 4. Click save. And then click Close.

5. Your file in RAR format will look like this now:
6. Go to your desktop and find the file you just uploaded. Right click on it and click on "Open with" then click on WinRAR.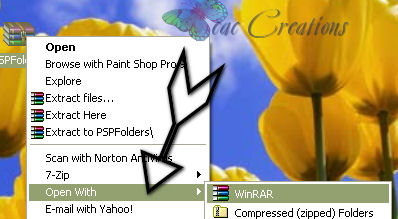 7. A window will open up that looks like below. Click on the folder in the window that says "PSP Folders" then click on Extract to.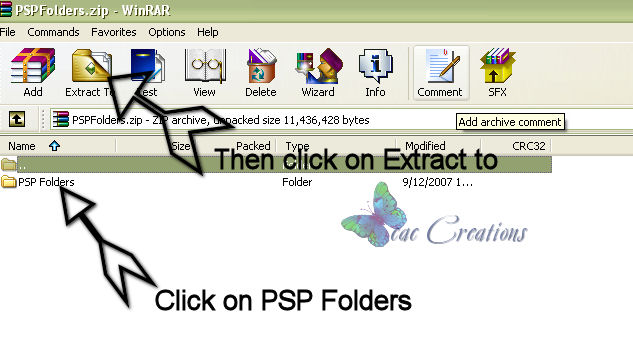 8. Another window will pop up click on Desktop and click okay.
9. The file will up load to your desktop and poof you now have PSP folders already set up for you and ready to go.
10. You can get rid of the RAR file you don't need but don't accidentally delete the folder one. Right click on the one that looks like a stack of books and click delete.
11. Let's look in that folder. Double click on your new PSP folder on your desktop.
12. This is a look at your PSP folder anytime you have a RAR download like brushes, frames masks, textures, fonts, plugins etc these are the files you want to put them. Sometimes in lessons we will refer to those folders for you to download to. Keeping a well organized folder system will save you lots of pain and aggravation.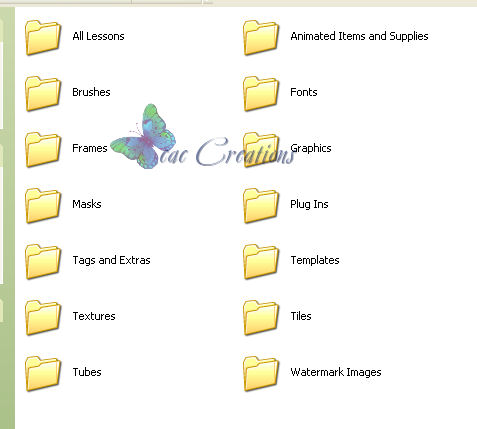 13. Now lets look in a couple of these folders. Double click on "All Lessons". Inside that folder it looks like this: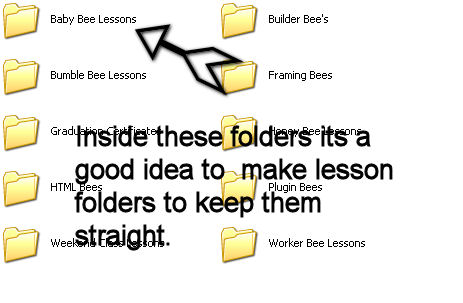 It's a good idea that when your on a level to make the lesson folder inside the folder of the lesson your own. For example if you on Preferences in baby bees then make a folder inside of the baby bee lessons folder that says Preferences. I never make mine until I'm actually working on that lesson then I know what the last lesson was that I was working on.
14. Now click on your back button:

15. Double Click on tube folder. I added a nice surprise inside of the food folder. So double click on the food folder. Double click on fruit. You should notice that I download another RAR file for you.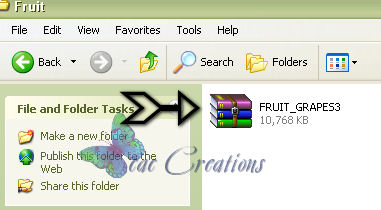 16. Now just like above go and unzip that folder but make sure you unzip it to the correct folder like so: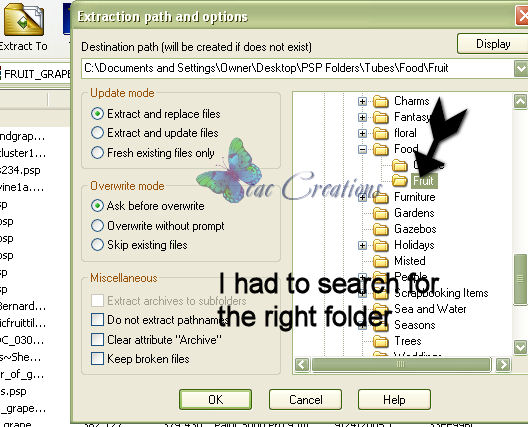 17. You now have some thing saved into your folder. If you can't see anything but this:
.18 Go to view and click on thumbnail.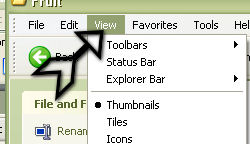 19. You now should see this: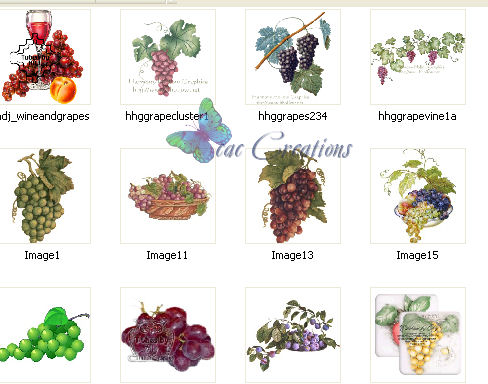 If you still see icons and not the thumbnails, you may need to download and install PSP Thumbnail Handler, which can be found HERE
Saving into your folder on your desktop instead of saving in your PSP will eliminate the amount of space you use in PSP. It takes a lot of memory to run PSP so the more you can put into separate folders the faster your PSP will be.
ASSIGNMENT:
1. Go to your "All lessons Folder" double click on it, click on baby bee's and make a folder in there that says "Screenshots" Send in a screen shot of that folder like so:
I should not only be able to see the screen shot folder but I should be able to the title of the folder like so:
Use your screen shot lesson as a reference
2. Go into your PSP Folder on your desktop then click on tubes/food. In there you will find the grapes. Unzip it and once it is unzipped send a screen shot like the one below.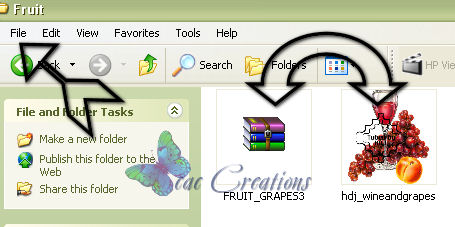 Use your screen shot lesson as a reference
Save your screen shot go to File/export/optimize jpeg, click okay
Send in your lesson like so: Baby Bee WinRAR and Files (name) for credit. Send them to: