Baby Bee Lesson 5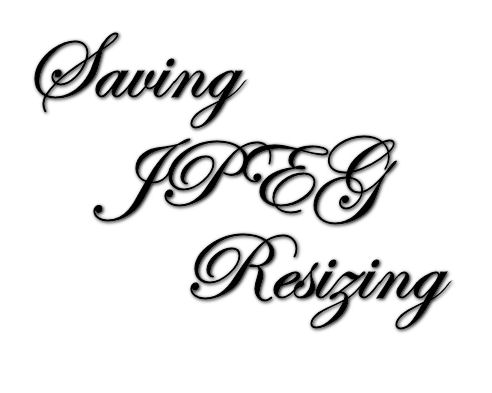 Written and Copyright © Cherie
This is my own creation, any similarities to other
tutorials is purely coincidental and unintentional.
Drag the Arrow to mark your progress

In this lesson you will be learning how to save images to your PSP folders then opening them up into your PSP. Then we will learn how to Resize them and save them as a JPEG. So by now you have had the folders lessons so you should be familiar with those folders. Let's get started:
1. First thing we are going to do is save the image below to our folders. Go to your PSP folders double click on "All lessons" then double click on "baby Bee Lessons" Go to file/new and make a new folder for this lesson and name it JPEG Lesson.

Mine looks like this:

2. Okay now that your lesson folder is set up right click on the image below.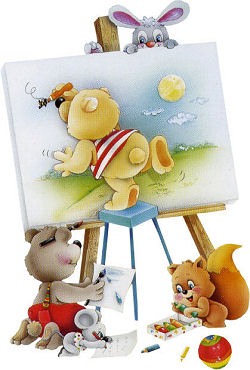 3. A box will come up that looks like this: You want to click on save as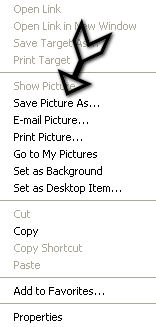 4. Another box will open up its the save as box. Use the scroll down box and find the folder that is on your desktop that says " PSP Folders". Double click on it when you find it.
5. Once you find the PSP Folder file click on it the other folders will show. Then double click on the All lessons folder.

6. You will see your "baby bee Lessons folder" double click on it:

7. You will then see you lessons folders double click on the JPEG Lesson folder.
8. Click save and your done.
ASSIGNMENT: JUST ACKNOWLEDGE IN THE GROUP THAT YOU UNDERSTAND THIS PORTION OF THE LESSON.
NOW LET'S OPEN IT IN PSP
1. You can do this several ways. You can go to your PSP go to File/Open and a box will open up in your PSP. Like so: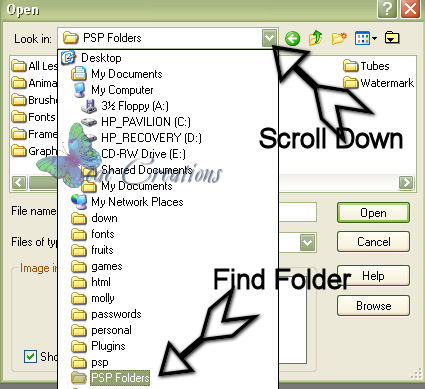 Find your PSP Folders on your desktop by scrolling down on the drop down arrow.
2. Double click on "All Lessons", Then double click on "Baby Bee Lessons", Then double click on JPEG Lesson. You should see this now: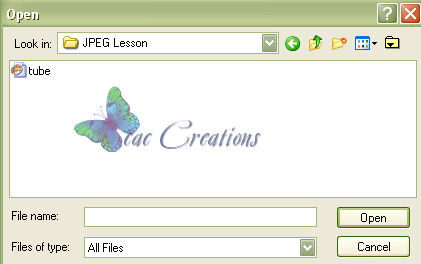 3. Now you notice it just shows the word with a PSP symbol yours may actually show the picture of it, If you have a folder with lots of tubes and want to see which ones they are then do this. While the Open box is up click on the "view Menu"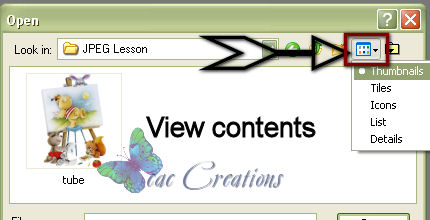 4. Pick what you want to open in PSP and click open and now it should be in your PSP.
OR
Or you can do it my way. I like fast and easy. This is how I do it.
1. Go to your desktop were you have you PSP Folders

2. Double click on the folder and it will open up. Double click on "all lessons" then double click on "Baby Bee Lessons" then double click on JPEG Lessons. You should now see your tube like this: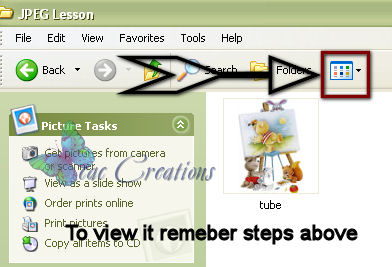 3. Minimize it to the bottom of your screen like so:

4. Now click on your PSP to open it, once its open click on the jpeg Lesson folder so it is over top of the PSP like so: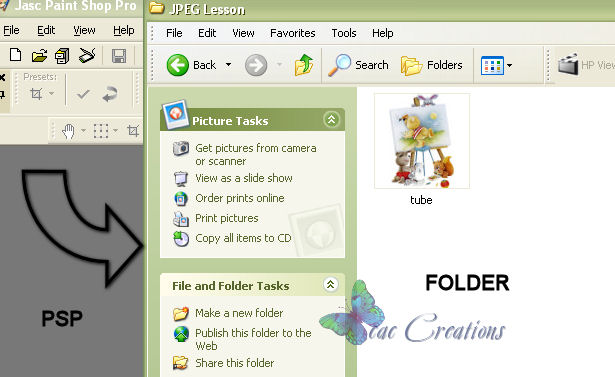 5. Click on your tube image only wants to highlight it. Make sure your mouse is setting on the image, Left click and drag it over to your PSP and when it is in a blank spot on your PSP release your mouse. This short cut will allow you to drop and drag the image into your PSP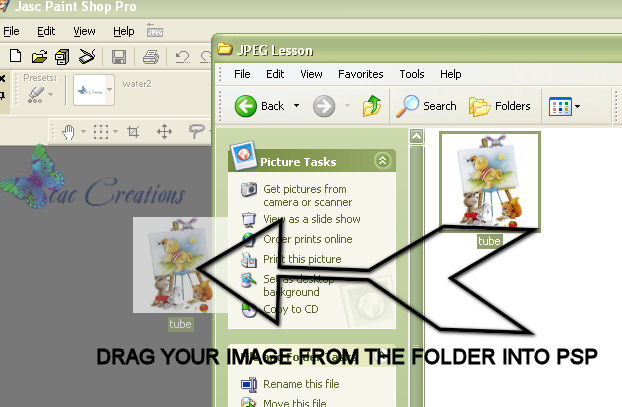 ASSIGNMENT: JUST ACKNOWLEDGE WITH IN THE GROUP THAT YOU UNDERSTAND THIS PORTION OF THE LESSON
OKAY NOW THAT YOU HAVE YOUR IMAGE IN PSP LET'S LEARN TO RESIZE IT:
1. Okay with your Image in PSP go to Image/resize.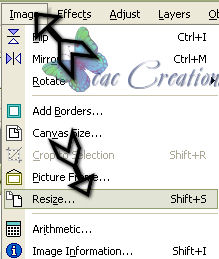 2. A box will open up you can resize a graphic based on pixels or percentage. I use pixels but that's my preference.
3. Lets take a look at these settings for a minute. Notice the Original Dimensions. That information will tell you the actual size of your image before you resize it.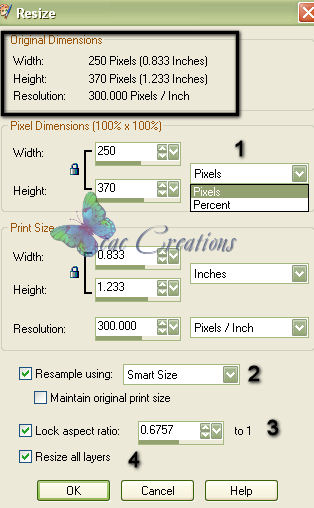 I have numbered the reset of them so follow along as we briefly talk about them.
1. Is the Dimensions you can set it to Pixels or percent. Remember in percentage 100 percent is huge. Think 50 percent half the size and so on, and so forth.
2. I always resample using "Smart Size" You may find some lessons that will tell you to resample using a different method those a on the drop down menu like so: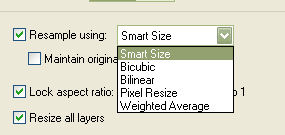 When you get to those lessons at least now you will know how to get to those settings.
3. When you have the Lock Aspect ratio checked it will automatically set your width and height based on what you type in it for example. If you type in that you want your width to be 150 then your height will adjust automatically. Like so: I typed 150 in the width and as I typed it the height changed. Give it a try.

4. Resize all layers - With this checked it will resize your entire project with one click. Now if your working on a project that has multiple layers ( you will get layers in another lesson) and you only want one layer resized then make sure you uncheck this. But go back and check it again when your finished or it will always just resize one layer within your project instead of the entire thing.
ASSIGNMENT: GO TO IMAGE/RESIZE MAKE YOUR SETTINGS AS FOLLOWS: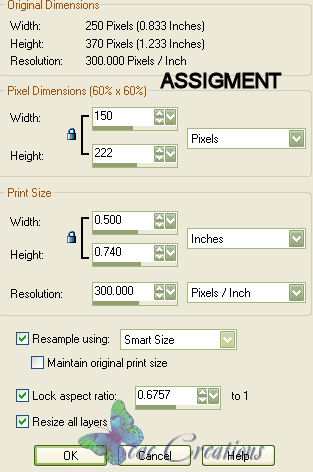 WELL WE HAVE RESIZED NOW LET'S SAVE IT:
1. With your image resized were now going to save it. Lot's of people including myself make the same mistake. The go to file and save as. Well you can do that but you are usually saving it as a pspimage and when you do that it can only be viewed in PSP and not on a web page or email. And anyone wanting to view it would have to go pull it up in PSP. So were going to learn to save it the Right way.
There are two types of images that you can save.
Jpeg - has the background to it and if you save a transparent background with a jpeg setting it will make your background underneath it white.
GIF - Saves transparent images as transparent (no background) - You will get more information on Gif saving as your progress.
2. So lets go save our new resized image as a JPEG
3. Go to file/export/JPEG Optimizer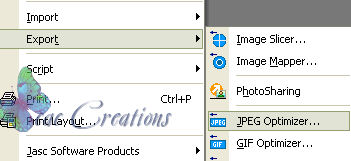 4. You will get a box up that looks like this: Click OK.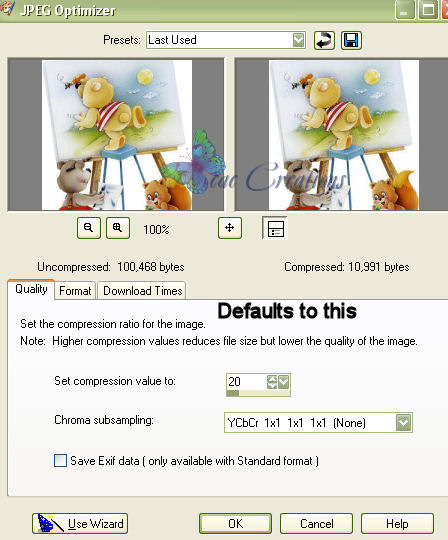 5. Just like the lessons from above there is no difference you must find your folder when the save as box comes up. So find your folder and then name it assignment and click save.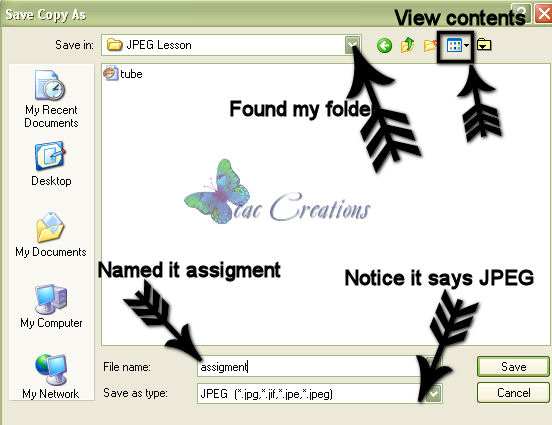 Your finished resize image should now be saved as a JPEG and in your lessons folder.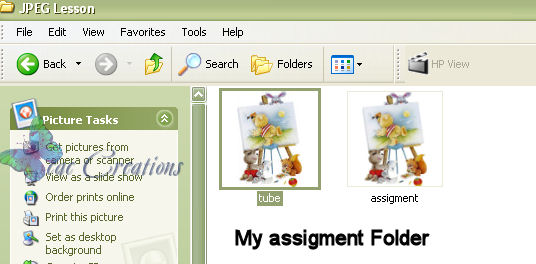 ASSIGNMENT: SEND IN YOUR FINISHED SAVED IMAGE AS A JPEG TO THE GROUP FOR CREDIT.
Send in your lesson like so: Baby Bee JPEG Lesson (name) for credit. Send them to: