Baby Bee Lesson 6

Written and Copyright © Cherie
This is my own creation, any similarities to other
tutorials is purely coincidental and unintentional.
Drag the Arrow to mark your progress

Make a folder in your PSP folders in All lessons under baby bee and title it Materials Pallet.
Understanding your Materials Pallet
On the right hand side of your PSP is your Materials pallet if you don't see it review the work space tutorial. It look like this: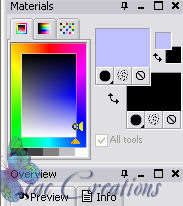 On the top of the pallet there are three tabs.

The first one is your frame

its the default for PSP and it gives you color choices.
. I prefer the first tab. The second tab is a rainbow one and will allow you to mix your colors just like the frame one does.
The last choice of the tabs is swatches
and you get a pallet that looks like this: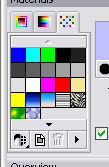 you limited to only those colors.
The box next to your color choices is your foreground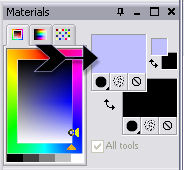 And the box underneath it is your background.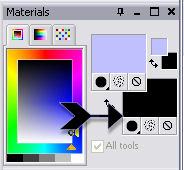 Notice the box below your foreground and background those are tabs that have there own special function.

The

indicates that the pallet foreground or background is on color.
The

tab tells it that you want it on a pattern.
The
says turn it off I want no color at all.
Lets look further at the foreground and background boxes. Take your mouse and double click on the foreground like so:
A box will open that looks like this: Notice the tabs. Color, Gradient and Pattern. The color is how you choose what color you want.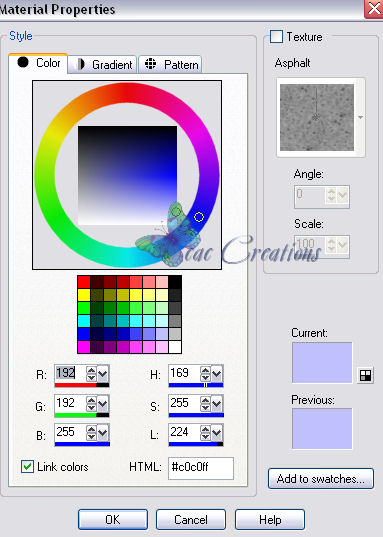 Lets explore the color one first.
Open up a tube in your PSP then double click on the foreground. With the materials properties box open and the color tab check place your mouse on the tube. Watch how a color box will show up with an eye dropper. PSP is showing what the colors are in that tube if you click on the tube at the color you like it will selected it in the Materials properties box. You just click okay and you have your new color. See example.
Notice on the Materials properties when it comes up that there is a texture box. That box if checked will add an almost transparent texture to your color. It also has a drop down arrow to choose textures. Keep it unchecked until needed. Uncheck reverts it back to a solid color.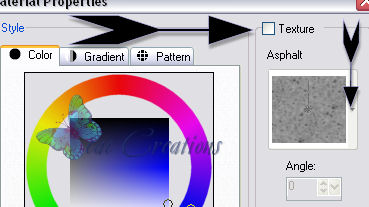 Now take a look at Gradient. Gradients will add a 2 tone color to your work and yes you can add a texture. You will learn more about gradients as your go along but for now this is just to get your familiar with the tabs.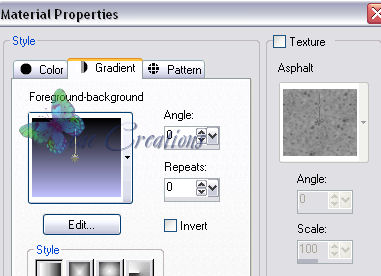 The last tab to look at is pattern: Clicking on the drop down arrow you will get lots of choices in patterns and later you will learn how to add patterns to a project and yes even download them to your materials pallet. If you want to work with a pattern you just click on it and then click okay and your pattern is now in either your foreground or your background.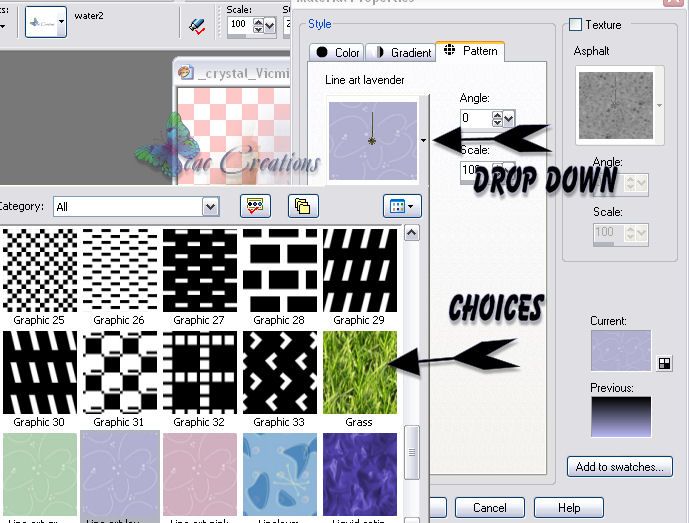 NOTE: REMEMBER YOU CAN EFFECT BOTH THE FOREGROUND AND THE BACKGROUND THE SAME WAY. WHEN YOU WANT TO ADJUST THE BACKGROUND DOUBLE CLICK ON IT JUST LIKE YOU DID THE FOREGROUND TO BRING UP THE BACKGROUNDS MATERIALS PROPERTIES BOX.
Now to play with it. Go to file/new and using my settings make a new image. A new image is refereed to as a blank canvas.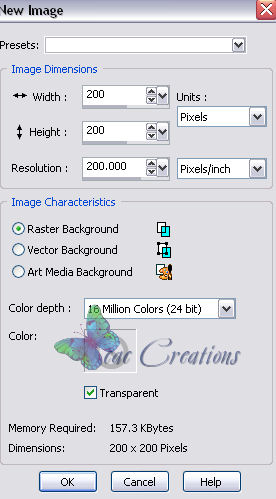 Then click on your
tool and play around with the "Materials Pallet" by double clicking on the foreground and the background. Then follow the assignment below and send them in.
Assignment: Send in 3 jpegs. 1 flood fill with color, 1 flood fill with a gradient and then the last one flood filled with a pattern. Click on the "email me" for the address and instructions.