Chalking backgrounds:
Creating a Background Using Chalk

Written and Copyright © Krissy Baker
This is my own creation, any similarities to other
tutorials is purely coincidental and unintentional.

Lesson Supplies Available Here



Drag the Arrow to mark your progress
I have been playing with the chalk a lot and figured this would make a great lesson so that you can create some awesome work of your own..

Lets get started..

Step 1

Open a new transparent image 500 by 500.. You can Down size it later.

Step 2

Open a tube you would like to work with. I'm going to be using this one for this lesson because of the bright colors.




Step 3

Click on your Chalk Tool




Step 4

Get an idea in your head of what kind of background your going to want with your project.

Step 5

With your dropper in your color pallet pick a darker color for your background from your tube. Like this




I used a larger size for my chalk size. You can place your colors anyway you have pictured your design to go.. I want my design to go circular around the fruit.

Step 6

Pick a lighter color for your background something that will go along with what you have already picked.




Step 7

Once you get all the colors you think you want to start out with.( Keep in mind you can always add to this in colors) . Get your Smear tool




And Smear your colors in together. Like this




Step 8

Give it a little blur -- Adjust/ blur/ Gaussian blur




this one has a blur of 10 to it. You use your own judgment.. This is your project.

Step 9

I added a background layer and flood filled it in white.

Step 10

This is where I'm going to add my tube so I can see what else I want with my Tube.




I wanted to give it a cloud look so as you can see I took my chalk again and added the cloud and used all the same technique that I had taught you above. ( remember after you have used your chalk and smear to turn this into a raster layer ) Right click on your chalk layer and convert to raster layer.

Step 11

I wanted to go in and add more shadow and color to my cloud and background so I used my chalk again adding color and lines where I wanted my shadows to be.. Moved my shadow for my fruit under the fruit. The shadows in the clouds over the clouds and made shadows under the clouds. This giving my creation more Depth and Luster.

Step 12

Now I feel this is ready to be finished up because I don't want it to get to busy so I'm merging all my layers flat at this point.

Step 13

I'm going to frame this but I want to keep the creative side in me moving so I'm going to add a boarder.. But rather then flood fill.. I'm going to use my chalk and smear and blur again to create my frame.

To get it to look like this.




This was all done with the chalk / smear/ and blur. All but the Gold.. That was flood fill.

Step 14

Add any Decoration you would like on it along with your water mark and text.




In this project I first colored my angel using my PSP and then set to town on the background using the Pastel tool. I started out with that purple in her dress that you can see on the very outside of the background. Then used the colors from the World glob for the inner colors. I then added my clouds and blended / softened and blurred to get the effects in the background.. After putting her in clouds I then used my Brush tool.. And placed a few stars around her.. Using Pastels again I created the frame.. Using the Same smear/ blur and then added a little twist from Effects. Add my Bevel .. Then added the corner Accents.. My Text and I was finished.. This is an example of what I'm looking for in your hand in's for credit..

Mandatory Assignments

1. You will be making one of these backgrounds using the fruit in supplies.

2. Then you will take the Other 3 Tubes and Remove the Color; Color them yourself; Create your own backgrounds; Create your own Frames; Use filter. Then when you send this in include a little bit about each creation.. How you made it and settings you used.

ASSIGNMENT:

1. Peach send from lesson

2. 3 tags using the three other tubes with above instructions.

Have fun with this My Happy Little Artsy Bees.

Hugs and Love Krissy



Send in your lesson like so: Artsy Bee Lesson 12 (Your Name/YahooID)for credit.

Send to :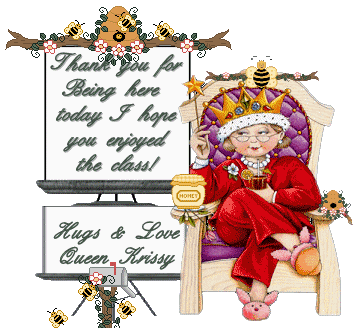 Please do not copy, tear apart, email or share these lessons without my permission: Thank You for your understanding and respect for the hard work that goes into these lessons
Graphics/Content © 2006 Queen Krissy New-Bee's. All Rights Reserved.